Ex-clergyman guilty of 'sinister' Newton Aycliffe sex abuse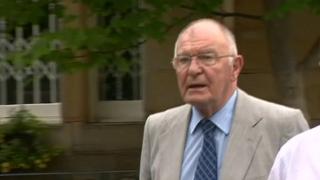 A retired clergyman has been convicted of what was described in court as "sinister and deliberate" sex abuse in the 1970s and 80s.
Granville Gibson, 80, abused two men aged 18 and 26 while he was vicar at St Claire's Church in Newton Aycliffe, Durham Crown Court heard.
He denied the charges but was convicted of two counts of indecent assault after trial. He was cleared of five other charges.
The Church of England issued an "unreserved apology" to the victims.
The court heard Gibson, who was later made an archdeacon, was guilty of "sinister and deliberate" sex abuse and a gross breach of trust.
A jury took six hours to find him guilty of indecently assaulting two men who had been working on church property.
Gibson, from Darlington, was found not guilty of one serious sexual offence and four indecent assault charges.
He will be sentenced at a later date.
'Profoundly sorry'
After the verdicts, the Bishop of Durham, the Rt Rev Paul Butler, said: "We offer an unreserved apology to all the survivors and those affected by this news.
"We commend the bravery of those who brought these allegations forward, acknowledging how difficult and distressing this would have been.
"We are profoundly sorry for the abuse perpetrated by Mr Gibson and remain committed to doing everything possible to ensure the wellbeing of children, young people and adults, who look to us for respect and care.
"Abuse is a terrible crime and a grievous breach of trust, which has lifelong effects."
He added a review would be conducted by the Diocesan Safeguarding Management Group.