Bishop Auckland's Zurbaran paintings going on US tour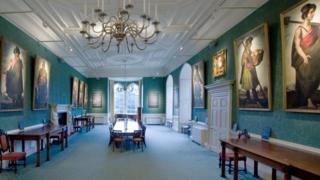 Six of the 13 Zurbaran paintings held at Auckland Castle are being sent on a 5,000 mile journey to see what secrets they may hold.
The paintings, which have hung in the castle's dining room for 260 years, are being sent to the USA for display.
While there they will also undergo UV and X-ray analysis to see if they contain any hidden art.
The other seven will be sent to America when the castle closes for refurbishment in October.
The paintings depict Jacob and his twelve sons and were painted by Spanish artist Francisco de Zurbaran in the 1640s.
There was a campaign to keep them in Bishop Auckland in 2012 after it was revealed the Church of England wanted to sell them.
They were saved when philanthropist Jonathan Ruffer bought the castle, the traditional home of the Bishop of Durham.
The paintings will be at The Meadows Museum in Dallas, Texas, and The Frick Collection in New York.
All 13 will be back in the castle by May 2018.
Curator Clare Baron from Auckland Castle said: "Thorough scientific analysis will make it possible to uncover such elements as under drawing, changes to the composition, and the materials used. We hope this thorough examination will give us insights into Zurbaran's creative process and artistic intentions, and that we will gain a greater understanding of these impressive works.
"Whilst we are sad to see Joseph, Naphtali, Asher, Dan, Levi and Reuben leave, their departure represents not only the start of a bright new future for Auckland Castle, but a unique opportunity for these master works to be studied."