Shane Tunney death: Teenage killers' sentences 'not lenient'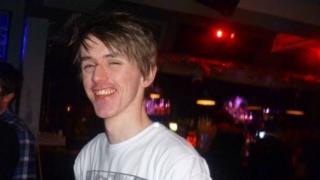 The sentences given to seven teenagers who beat a 24-year-old man to death will not be lengthened, the solicitor general has said.
The gang was found guilty of killing Shane Tunney after they attacked him and a friend in Norton in June 2016 .
Mr Tunney's family had asked for the sentences to be reviewed, particularly those jailed for four years or less.
Solicitor general Robert Buckland said the sentencing was complex and they were "not unduly lenient".
Kearan Terry Davis and Kieran Harry Davis, both 18, were jailed for life for murder and must serve a minimum of 15 years and 13 years respectively.
Jake Douglas, Brandon Pitt, and Daniel Hunt, all 18, were convicted of manslaughter.
Pitt was given a seven-year sentence; Douglas and Hunt were both handed four-and-a-half-year terms.
Two boys aged 17 and 16 who cannot be named for legal reasons, were found guilty of manslaughter and jailed for four years and 45 months respectively.
Mr Tunney's family argued the younger pair could be released in 2017 and also asked for the killers to be resettled away from Norton.
Vix Cooper, Mr Tunney's girlfriend, said the prospect that some of his killers could be back on the streets next year was "quite a scary thought with how close some of them live within the area, more so for people within the community as well as for ourselves and Shane's family."
In a letter to Alex Cunningham, the Tunney family's MP, Mr Buckland said he believed the sentencing judge, Mr Justice Andrew Smith, had faced a "difficult balancing exercise".
He said: "In my view, the sentencing judge cannot be said to have fallen into clear error at any stage of complex sentencing of the offenders."
Mr Buckland also said he had written to the National Offender Management Service and asked them to consider resettling the killers "away from the community" when they are released.