Funeral director Gerald Martin abuse claims "untrue"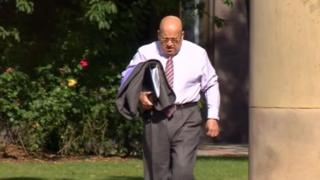 A funeral director has told a court that allegations he sexually abused five young boys are all untrue.
At Teesside Crown Court Gerald Martin has been accused of abusing the teenagers over a 20-year period beginning in the 1970s.
One alleged victim said he was grabbed from a public toilet, bundled into a car and sexually abused at Mr Martin's funeral parlour in Hartlepool.
Mr Martin, 66, of Valley Close, Hartlepool denies all the charges.
Giving evidence, he admitted having homosexual experiences but said he had not told his wife of 35 years because he loved her so much and they were "absolutely happy".
'Too frightened'
He said he would have liked to come out but was "too frightened" because in the early days it was "frowned upon", and admitted having sexual encounters with some men, but not with children.
After being taken through the evidence of the alleged victims, he was asked if he had ever had sex with any of the boys and replied "definitely not".
He said he was well known in Hartlepool, having conducted thousands of funerals, and had regularly appeared in the local newspapers due to his charity work.
When asked for his views on the allegations against him he said they were "all untrue".
The trail continues.