Middlehaven regeneration: Swing bridge plans unveiled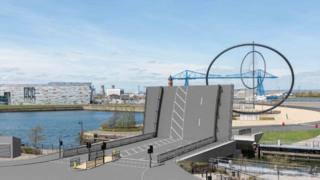 Plans for a £9m swing bridge to cross part of the River Tees in Middlesbrough have been unveiled.
The bridge is part of the regeneration of Middlehaven, with more than £150m already being spent on housing, leisure and business developments.
The three-lane lifting vehicle and pedestrian bridge would be built at the entrance to Middlehaven Dock.
Middlesbrough councillor Charlie Rooney says the regeneration is "vital" for the future of the area.
Also included in the regeneration plans is a £30m snow and leisure centre which would house a 557ft (170m) indoor ski-slope, ice wall, trampoline park and climbing walls.
Proposals for the bridge are to be put before Middlesbrough Council in September.
If approved, building work is likely to begin early in 2017.