Flying Scotsman steams ahead to Shildon railway museum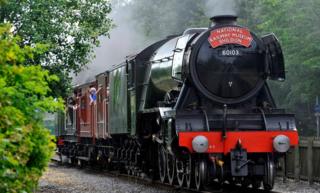 The Flying Scotsman has been welcomed by hundreds of steam enthusiasts at a railway museum in County Durham.
It arrived at the National Rail Museum in Shildon for the start of a 1950s and 1960s inspired event which runs until 31 July.
This year a £4.2m 10-year restoration of the locomotive was completed at York's National Railway Museum.
Museum manager Gary Campbell said he was "delighted" to give visitors the chance to get up close to the "icon".
Flying Scotsman was originally built for the London and North Eastern Railway Company in 1923 and ran daily between London and Edinburgh.
The locomotive went out of service in 1963 and spent 40 years in private ownership touring the world.
It was bought for the nation by the NRM in 2004 and last appeared at the museum at its official opening the same year.