Jacksons Landing demolition branded 'waste of money'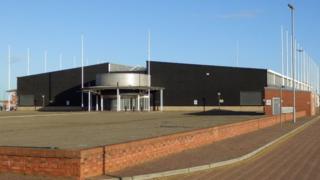 A council has been accused of squandering more than £1.5m after announcing it will demolish a shopping mall it bought three years ago.
The Jacksons Landing site has been disused since 2004 and was purchased by Hartlepool Council in 2013.
Critics said the authority had proceeded "without a clear vision".
However, council leader Stephen Akers-Belcher described it as a "sound decision", with developers interested in transforming the land.
The council revealed its vision for the site in 2014, with the hope flats, along with retail and leisure facilities, could be built there.
It had explored whether the existing building could be used but decided there were more opportunities with a "blank canvas", a spokesman said.
Independent councillor Paul Thompson said: "I'm really frustrated the council spent the best part of £1.6m without a plan, without a clear vision.
"Here were are three years on, we're going to knock it down and spend more taxpayers' money on nothing."
The shopping centre opened in 1994 but closed down a decade later, with council describing the five-acre site as a "symbol of failure".
"I would say there's been no waste of money," said Mr Akers-Belcher. "This is a sound decision. We've listened to officers' advice.
"We have developers coming forward saying they are interested in the site."
Demolition is due to get under way in September.