Star Wars Boba Fett figure sells for £26,000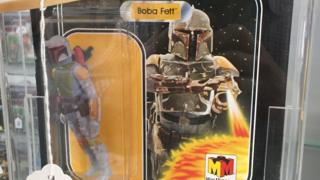 A rare Star Wars toy has sold for £26,000 at auction.
The boxed figure of bounty hunter Boba Fett - just 3.75in (9.5cm) high - smashed its estimated sale price of £4,000-£5,000.
It is one of a number of Star Wars lots being auctioned on Teesside across two days.
An unpainted Fett prototype, which was not put into production over fears its firing rocket was a safety hazard, sold for £18,000 including fees.
The higher priced figure was described as being in "near to mint" condition.
Originally sold in France, it was produced under the Meccano brand.
Auctioneers Vectis said the sale price was a world record.
The figure is part of a collection which was amassed over a 40-year period by a French collector. The items are expected to sell for a total of £500,000.
In January 2015, another Boba Fett figure - costing £1.50 when it was released 35 years earlier - was sold by Vectis for £18,000.