Rare Star Wars figures expected to fetch £500,000 at auction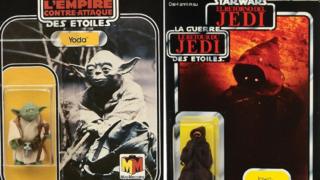 A rare collection of Star Wars memorabilia from around the world is expected to fetch up to £500,000 when it goes to auction.
Amassed over 40 years by a French collector, many of the figures come from places including Mexico and Japan.
One of the most prized pieces includes an unpainted L-slot rocket-firing Boba Fett prototype which is expected to fetch £15,000 - £20,000.
Other items include vintage Yoda, Luke Skywalker and Jawa figures.
The two-day sale at Vectis Auctions in Stockton ends on Wednesday.