Ex-police officer Steve Matthews sues Cleveland force over bullying claim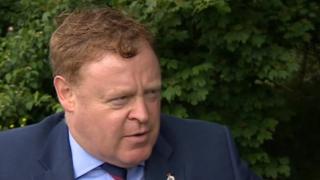 An ex-policeman is suing his former force over claims it launched an "orchestrated campaign" to discredit him after he criticised it.
Steve Matthews, former chairman of Cleveland Police Federation, alleges his phone was "hacked".
He believes he was targeted after questioning the effectiveness of the force's probe into another officer, Wayne Scott, who was jailed for rape.
Cleveland Police said it is "carefully assessing" the claims.
Mr Matthews said: "Cleveland Police accessed my phone records.
"In layman's terms, they hacked my phone to find out who I was talking to and where I'd been.
"That had a massive impact on my family because they were accessing communications from my children. It's disgraceful."
Mr Matthews served with Cleveland Police for 27 years before leaving in 2013.
'Horrible'
In his role as chairman of the federation he dealt with officers' complaints and legal cases against the force.
He told the BBC's Look North programme he had raised concerns about Cleveland's investigation into the behaviour of Scott, who was jailed in 2013 for 19 years for a series of sex attacks.
A report conducted by the force under the supervision of the Independent Police Complaints Commission highlighted how Scott preyed on vulnerable female offenders and demanded sex from them.
However, Mr Matthews said the inquiry was "marred by incompetence" and described the resulting conclusions as a "whitewash" designed to protect the reputation of individuals within the force.
Mr Matthews said he also made allegations of racism within the force and was then bullied, harassed and intimidated.
"They were saying I'd been on courses and gone on trips that I wasn't entitled to," he said.
"It was complete rubbish, without foundation.
"I believe they monitored my emails and, in fact, they rushed in as I left the office and took my old computer hoping they could find something on it. It was horrible.
"My wife is a serving police officer and we've had a terrible time. It has impacted on my family life."
The force said it has received a civil claim from a former officer and could not comment further.
Last month it was revealed it is being sued by another former officer over claims of bullying and in 2014 it found itself at the centre of allegations of institutional racism.