Corbyn critic MP Tom Blenkinsop in Twitter threat probe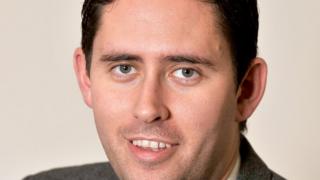 A Labour Party member has been suspended for allegedly threatening a Teesside MP on the day he backed calls for leader Jeremy Corbyn to resign.
Middlesbrough South MP Tom Blenkinsop received a tweet on Sunday in which he was called "traitorish" and threatened with having his teeth kicked in.
Mr Blenkinsop had revealed he intended to vote for a motion of no confidence in Mr Corbyn's leadership.
A Labour Party spokesman said a female member had been suspended.
Cleveland Police have been told about the incident and are also investigating.
A spokesman for Mr Blenkinsop's office said the Tweet was received at 18:49 BST on Sunday.
Since the weekend there have been more than 60 resignations from Mr Corbyn's ministerial team.
Earlier this week Mr Blenkinsop was one of 172 Labour MPs who voted for the no confidence motion.