Redcar child neglect review highlights failings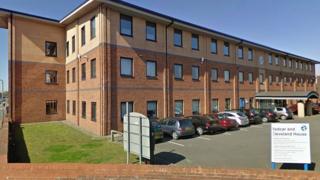 Experts "missed opportunities" to protect two children who suffered injuries at the hands of their Teesside mother, a review has found.
A two-year-old girl and her older sister, from the Redcar area, were neglected by the mother who "threw parties" and "took drugs".
The mother, who cannot be identified, was jailed for neglect last year.
Risks of violence within the family were "significantly underestimated", a serious case review has concluded.
The review, conducted by Redcar and Cleveland Council, focused on an incident in October 2013 in which the the two-year-old - referred to as Emma - suffered "non-accidental" injuries.
'Potential violence'
She'd earlier suffered bruising to her shoulder and neck. Her mother claimed she had "fallen off a trampoline".
Between 2011 and 2013 other reported injuries included burns and extensive bruising.
Both children, who were the subject of child protection plans from January 2012, are now in the care of a member of the extended family.
The review said: "There was insufficient analysis of the impact of the parent's behaviour on the longer term health and development of the children."
It concluded agencies had a "poor understanding of the nature and extent of potential violence that the children were exposed to".
Redcar and Cleveland Council's Safeguarding Children Board said it was "extremely saddened" by the case and that most of the review's nine recommendations, including improved social worker oversight, had been implemented.