'Vectra Distroyer' cleaver seized by Darlington police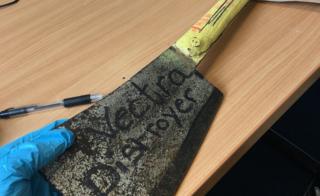 A cleaver inscribed with the words "Vectra Distroyer" has been seized by police from the back seat of a car.
Special constables in Darlington discovered the weapon among workmen's tools in an insecure vehicle, Durham Police said.
It was stopped while being driven in the Grange Road area and was also uninsured, a force spokeswoman said.
More than 200 knives were handed in during a regional police amnesty in October and November last year.