Saturday County Cup lid still missing 'after 50 years'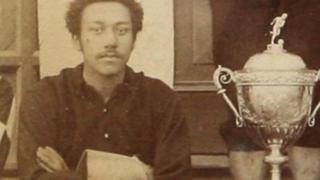 Owners of one of the UK's oldest football cups are hoping to solve a 50-year-old mystery a week before the trophy goes on display.
The lid for the Saturday County Cup - in use since 1880 - went missing sometime between the 1960s and 1980s.
Now the North Riding FA is trying to find it before the trophy goes on display at the National Football Museum in Manchester.
The trophy was originally known as the Cleveland Cup.
Dave Roberts from the North Riding FA told BBC Tees: "We believe it's the second oldest cup in the world that's been continuously played for. There is one problem, we've lost the lid.
"We need to find a hero, there is a hero out there who knows something about the lid, either about its demise, or its hanging on a wall or is on a mantelpiece."
In 1887, it was won by a Darlington team including Arthur Wharton, the world's first black professional footballer.