Disabled girl's equipment stolen in Stockton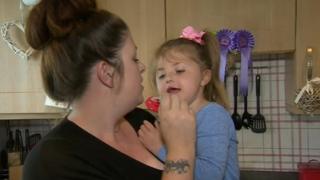 A mother has described thieves who stole her disabled daughter's equipment as "heartless and cruel".
Melodie Cook, who suffers from rare genetic disorder Phelan-McDermid Syndrome, has to use a wheelchair and relies on an iPad to communicate.
The child's medication and a specially-adapted car were also taken in the burglary in Stockton early on Thursday.
Rebeccah Cook said: "I feel completely empty, it's sickening. How could anyone steal from a disabled child?"
The family was asleep upstairs when entry was gained by removing glass from a ground-floor window.
Cleveland Police described it as a very distressing crime and appealed for anyone with information, or who had been offered the items for sale, to contact the force.