Return promise after Durham Tees Valley Air Show success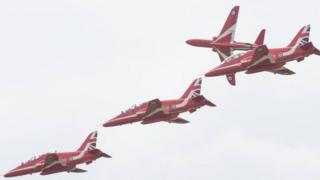 Organisers of the Durham Tees Valley Air Show have confirmed its success means it will return in 2017.
About 18,000 visitors attended the event on 28 May, the first show at the airport since 1989.
Skylive Events said it was hugely encouraged by the amount of positive feedback it had received.
It was already planning a bigger and better show on 27 May 2017, with an "ambitious expanded flying programme and more ground-based attractions".
The inaugural event featured displays including the Red Arrows, the Battle of Britain Memorial Flight and the Falcons parachute display team.
Chris Petty, from Skylive Events said: "Organising an event on this sort of scale obviously takes a huge amount of time and effort, which is why we have started planning for next year straight away.
"With the experience we have gained this year we're confident we can ensure that the air show will be established as one of our area's top events."