Bishop Auckland school playing field damaged by digger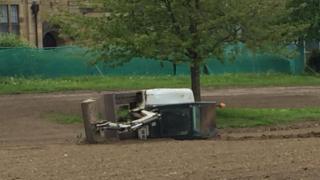 Thousands of pounds of damage was caused to playing fields at a school in County Durham after vandals tore it up with a JCB digger.
The destruction happened on Friday between 22:30 and 23:30 BST at King James I Academy in Bishop Auckland.
Durham Police said a JCB, a mini digger and a dumper truck were driven onto the rugby field causing damage to the pitch. The digger was then smashed up.
Money and tools were also stolen from a cabin at the school.