Durham Tees Valley air show returns to the skies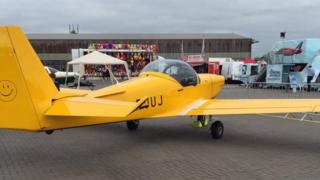 An air show has returned to the skies above Teesside after a break of 27 years.
The event at Durham Tees Valley Airport was postponed in 2015, after flying restrictions were imposed after the crash at Shoreham air show.
The last show to take place was in 1989, and an attempt to revive it in 2013 failed due to a lack of funding.
Attractions including a display by the Red Arrows, and organisers are hoping for a capacity crowd.
Chris Petty, from Skylive Events, said: "It's more than just an air show, it's four, five shows in one.
"I just think it will be amazing for the region to put it back on the map after all this time."