Rejected Ingleby Barwick homes now approved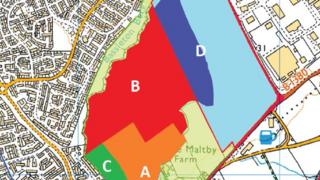 Plans for 550 homes in Ingleby Barwick which were rejected by both the local council and the secretary of state can now go ahead after the government changed its mind.
The previous refusals were quashed by the High Court last year and sent back to the government to reassess after appeals by Tiviot Way Investments.
Now the government has approved the firm's plans despite local opposition.
Stockton Council leader Bob Cook said it makes a mockery of local democracy.
The plans were unanimously rejected by Stockton Borough Council in June 2014 since when the authority has spent more than £100,000 on legal fees as the applicants appealed first to the department of communities and local government and then to the High Court.
---
Timeline of the Ingleby Barwick homes
June 2014: Stockton Borough Council's planning committee rejects Tiviot Way Investments' plan for 550 homes on Low Lane in Ingleby Barwick
January 2015: Secretary of State for department of communities and local government Eric Pickles upholds the refusal after an appeal by Tiviot Way Investments
July 2015: The High Court quashes Mr Pickles' decision after a Tiviot Way Investments appeal sending the application to be looked again by the government department
May 2016: New Secretary of State for department of communities and local government Greg Clark approves the plan
---
Mr Cook said: "This is yet another case of the government overturning a housing application rejected here despite local opposition and when people see these 550 houses getting built they should remember that they were properly considered and unanimously rejected by this council's planning committee only to be waved through by the government.
"We have always maintained that planning decisions are best made locally and not in accordance with inappropriate national guidance. If you want an example to back this up, you need look no further than this case."
James Wharton, Conservative MP for Stockton South, said the lack of a five-year housing plan and problems with the way the council designated green belt land meant the grounds for refusal were incorrect.
He told BBC Tees: "The judge has said look, Stockton Council cannot turn this down on the basis of the reasons they have given, they are not strong enough reasons, they have got this wrong.
"When that's happened it's very difficult to further step in and refuse it."