Tidal warning after Huntcliff cut-offs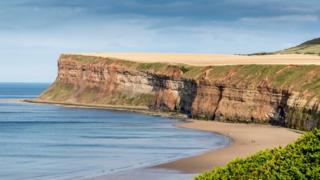 The RNLI has issued fresh warnings about getting trapped by the tide after a spate of incidents at the base of a Saltburn cliff.
Ten people have been rescued from the foot of Huntcliff after being cut off by the rising tide this year.
Redcar RNLI fears there may be more incidents over the summer weekends and school holidays.
Lifeboat operations manager Dave Cocks said several people had required hospital treatment after being rescued.
He said: "It's no fun finding yourself trapped, cold and wet, by the relentless approach of the tide. Once you are pinned against the base of the cliffs, there's nowhere to go. You will need to be rescued, and you have to raise the alarm early.
"There's a misconception that the danger point is when it is high tide, but that's not correct. Once low tide has passed, and the sea is on its way back in, that's the dangerous time.
"The most common time to be cut off at Huntcliff is about three hours after the tide has started to come in. That also means there's another three hours of rising tide to come, and that is obviously going to have serious consequences."
Previous rescues have involved RNLI lifeboats from Redcar, police and coastguard helicopters and coastguard rescue teams.