Shane Tunney murder trial: Two guilty of 'savage' killing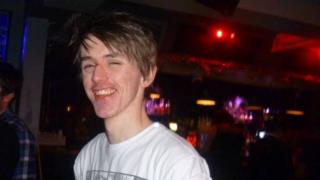 Two men have been found guilty of the "savage" street murder of a man who was "kicked like a football".
Shane Tunney, 24, died after he was attacked by a gang on Norton High Street in Stockton, as he went to buy pizza last June.
Kearan Terry Davis and Kieran Harry Davis, both 18, had denied killing him.
Jake Douglas, Brandon Pitt, and Daniel Hunt, all 18, and two other teenagers who cannot be named, were cleared of murder but convicted of manslaughter.
In a statement, Mr Tunney's family said he had had "more of a life in his 24 years than many will within a lifetime".
"He was one of the most kind-hearted, selfless people you could ever meet, he was a blessing within our lives and to anyone that knew him and he will never be replaced," they said.
The seven are due to be sentenced next month.
They were also convicted of attacking Mr Tunney's friend Anthony Kirk, who was with him at the time.
Teesside Crown Court heard the pair had been at a cash machine when they were pelted with waste food by a group on the roof of an adjoining Tesco store.
Soon after, they were confronted by the group and attacked.
'Acted in a pack'
One witness described Mr Tunney being "kicked - like they were kicking footballs at a goal" while Mr Kirk was beaten with a pole.
The court heard Mr Tunney managed to escape but, having flagged down a passing taxi, changed his mind and went back to help his friend, only to be attacked again.
He was left in a coma and died in hospital five weeks later.
His partner Vix Cooper, said: "Once the sedation had been taken off, I remember he looked at me and we made eye contact.
"For the first time he lifted his arm up and he held my hand and I saw a tear come down his cheek."
Following the verdict, Cleveland Police said in a statement: "Those responsible acted in a pack, carefully coordinating their attack on Shane and Anthony.
"They were viciously assaulted with a metal bar for no reason. The victims were simply going to pick up food and did not ask for a fight.
"The group have now been held to account for their appalling actions and they will spend a lengthy time in prison.
"Nothing will ever bring Shane back, however, hopefully the outcome of today will provide some level of comfort to Shane's family and friends and to Anthony."