Olivia Fairclough returns home after crowdfunded surgery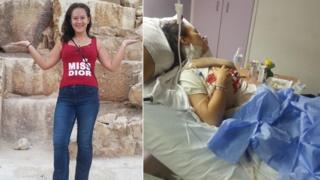 A woman injured in a horse-riding accident in Egypt has returned home after surgery funded by well-wishers.
Olivia Fairclough, 31, was left paralysed and stranded in hospital unable to pay for an operation.
An appeal later raised more than £30,000 and the surgery was carried out in Cairo.
The Great North Air Ambulance Service then approached Capital Air Ambulance, which offered to fly her back in a specially equipped Learjet.
Ms Fairclough had moved to Egypt in February 2015 to work at a stable, and was crushed when a horse rolled over onto her.
'Thank you not enough'
Almost 1,300 people donated to an online appeal set up by her family, when it emerged her medical insurance had expired.
Her brother Trevor thanked those who donated, as well as both air ambulance services.
He said: "The way we were brought up, it's almost embarrassing to ask for help. But we felt so alone we had no choice.
"The response has restored out faith in humanity. To say 'thank you' is not enough."
After arrival at Durham Tees Valley Airport, Ms Fairclough was transferred to James Cook Hospital for further treatment and rehabilitation.