Redcar remember volunteer Lynne Freeman at vigil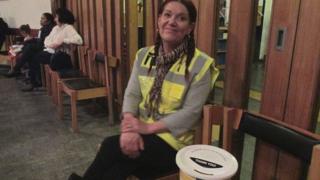 A candlelit vigil has been held in memory of a street patrol volunteer who died in an attack.
Mother-of-four Lynne Freeman was found with serious injuries in Mapleton Crescent, Redcar, on 23 March.
Minutes later, Jodie Betteridge, 30, was attacked in nearby Byland Close. Alan Bennett, 34, is accused of murdering both women.
Ms Freeman was a volunteer for the Redcar Beacons whose members patrol the streets making sure people are safe.
The vigil was organised by the Christian Nightlife Initiatives Network.
Anne Connelly, coordinator of Redcar Beacons: "Lynne was one of our first volunteers and was well known [in Redcar].
"The evening was a fitting memorial to a lady who invested herself in the nightlife of Redcar."