Donors pay for Olivia Fairclough's surgery after crush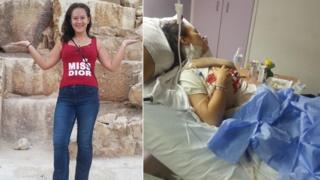 More than £30,000 has been raised to pay for urgent surgery for a woman left paralysed after being crushed by a horse in Egypt.
Olivia Fairclough, 31, from Eaglescliffe, cannot move from the waist down and had been confined to a hospital bed without money to pay for treatment.
More than 1,300 people have donated to an online appeal set up by her family.
She had surgery at about 00:00 local time on Thursday.
Speaking before her operation, Ms Fairclough said: "I cannot feel anything from my waist down - at all. I cannot move."
Ms Fairclough had been working at a stables in Cairo when the accident happened.
"I rode this horse many times before," she said.
"All I remember is waking up, not being able to breathe or to move."
She had taken out travel insurance but was unaware it had expired, she said.
'Forever grateful'
Consultants at James Cook Hospital in Middlesbrough have been discussing her treatment with doctors in Egypt. She has been in hospital for nearly two weeks.
Her father, Brian Fairclough, said it was "beautiful the amount of people all over the world who've donated to help Olivia".
"I will be forever grateful to all these people who've donated money and all I can say is thank you, from the bottom of my heart, thank you very much."
Her brother, Trevor Fairclough, told BBC Tees that Olivia has "had metal rods inserted in her back" and it is hoped she will be flown to Teesside in the next few days.
She will be taken to James Cook Hospital to undergo further treatment and rehabilitation.