Dozen chickens flee car stopped in County Durham police chase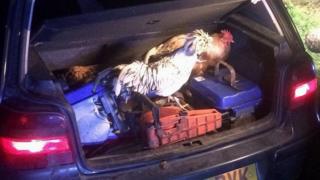 A dozen chickens were discovered in the back of a car after a police chase in County Durham.
The driver made off and the birds escaped from the boot when Cleveland and Durham Police stopped a vehicle in Horden, Peterlee, on Monday night.
The man was arrested after officers gave chase. It is thought 12 chickens and tools found in the car could have been stolen from a farm.
It is unknown whether all of the fleeing birds were recovered.
The suspect remains in custody.