Boy attacked in Middlesbrough after asking for directions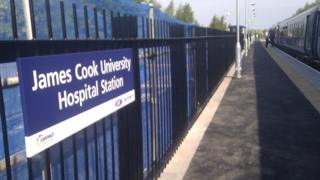 A 15-year-old boy was attacked with a bat in Middlesbrough after asking two older teens for directions.
The boy and a girl, also 15, were looking for a bus stop after getting off a train at James Cook station when they asked two men, believed to be 18 or 19, for help at 21:20 on Saturday.
The attackers fled but returned a short while later and stole the boy's phone and wallet, Cleveland Police said.
The boy suffered bruising and soreness to his back.
Police said the younger teenagers had got the wrong train and were seeking help when they approached the older pair on the bridge at the station.
Officers are particularly keen to speak to a man, aged between 20 and 30, who had got off the train and walked for a while with the younger teenagers before becoming separated in the chase.
They also want to speak to a man in vest who confronted the attackers and a woman from a nearby house who drove the boy and girl to the police station.