Hartlepool exhibit recalls 'disappearing' industrial heritage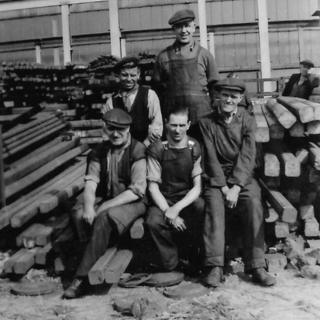 An exhibition is commemorating a firm at the heart of Hartlepool's industrial heritage.
Head Wrightson engineering, which was founded in Thornaby in 1840, manufactured bridges, blast furnaces and boilers for nuclear power stations.
Employing more than 6,000 people at its peak, the firm, which was taken over by Caparo, closed its doors in October.
Head Wrightson Stampings is on display at Hartlepool's Central Library from 20 April - 6 May.
Jim Matthews, who worked at the site for 38 years, said it was important to remember the town's industrial heritage as "little evidence" of its existence remained.
Formerly Clydesdale Forge and originally Head Wrightson, the firm expanded to the town's Brenda Road in 1939 when its rapidly growing operation outgrew its original Thornaby site.
By 1949 it had totally relocated to Hartlepool.
When Caparo closed its doors for the final time, 79 people lost their jobs, 12 of which were original staff.
Mr Matthews said the place somehow "got in your blood".
"It was a place that was often frustrating, sometimes annoying, regularly surprising but always rewarding.
"The people I knew and worked with were dedicated and genuinely cared about the products they produced.
"Hundreds of people have worked there and almost everyone you talk to in Hartlepool either worked there themselves or had family members or friends who did," he said.
The exhibition will include photographs and memorabilia, along with sample forgings and stampings, including a copy of the company's 1903 catalogue and its millionth forging, in the form of an ash tray.