Vectis toy robot auction exceeds £46,000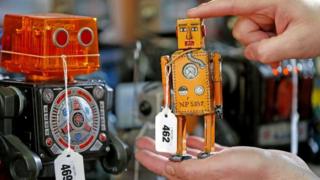 A collection of almost 1,000 robot toys has sold at auction for more than £46,000.
One of the biggest sellers was a 1939 Japanese Liliput figure which fetched £2,280.
A Japanese Batman sold for £792 while a model of Flash Gordon's rocket car reached £600, both above their estimated value.
The collection was sold during a four-hour long auction at Vectis in Thornaby.
Auctioneer Andy Reed said bids came in from around the world.
He told BBC Tees: "It would have been a good day if it was between £30,000 and £35,000, so it's far exceeded that and I'm sure the vendor will be really happy.
"Anything from Australasia, Japan, or America had a lot of interest in bidding and a lot of them really had to fight it out to win some of the lots."
The collection was amassed by one couple from the north-east over a 40-year period.