Missing Hartlepool cat rescued from under floorboards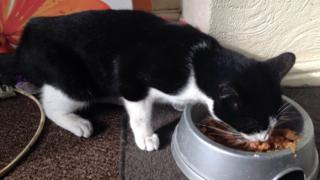 A missing cat has been rescued from under floorboards in a derelict house that had recently caught fire.
It is believed Felix got trapped in the property in Raby Gardens in Hartlepool after the blaze was put out and the doors and windows were boarded up.
The owner called emergency services after hearing cries from inside the house and was referred to the RSPCA.
An inspector with the charity, Clare Wilson, said the woman was "over the moon" to have her pet back.
"One of the boards had been pulled off so I could get into the property quite easily," she said.
The cat was found under an upstairs room and was freed using a crowbar.
The house is one of several awaiting demolition.