Angela Wrightson trial: Murder accused pair 'spattered' with blood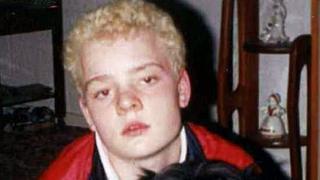 Two girls accused of battering a vulnerable woman to death had her blood "spattered" over their clothes, a court has heard.
Angela Wrightson, 39, was discovered half-naked in her living room in Hartlepool in December 2014.
Blood was found on all four walls and the ceiling suggesting a "prolonged, very violent assault", Leeds Crown Court heard.
The girls, then aged 13 and 14, deny murder.
The older girl has admitted manslaughter.
Ms Wrightson had sustained a "bare minimum" of 103 injuries inflicted with a variety of weapons, including a shovel, broken glass and a stick with protruding screws.
Forensic science expert Dr Gemma Escott told the court the patterns of blood on the clothes of the girls indicated each of them had "struck at least one blow" to Ms Wrightson.
Impact pattern
The older girl has claimed she was unconscious herself for periods of the assault and when awake asked the younger girl to call an ambulance for Ms Wrightson.
She has also said she tried to tend to Ms Wrightson's wounds.
Dr Escott said the crime scene was "inconsistent" with anyone having tried to help Ms Wrightson, as she had been undressed and moved after she was unconscious or dead and gravel had been poured over her body.
Trainers belonging to the older girl retained traces of Ms Wrightson's skin and body tissue along with blood, Dr Escott said, which would be consistent with kicking or stamping on Ms Wrightson.
The younger girl has said she had blood on her clothes because she touched the older girl and then wiped her hands on her top and trousers.
But Dr Escott told the court that the distinctive "impact spatter pattern" could not be explained by wiping.
The case continues.