Angela Wrightson death: Victim 'had 15 slash wounds to head'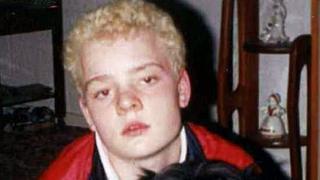 A woman was battered to death by two teenage girls and suffered 15 slash wounds to her head, a court has heard.
Angela Wrightson, 39, was found dead and half-naked by her landlord in her blood-spattered home in Hartlepool in December 2014.
Her injuries were consistent with being attacked with a knife or "having broken glass driven" into her scalp, Leeds Crown Court was told.
Two girls, aged 13 and 14 at the time of the attack, deny murder.
The older girl has admitted manslaughter.
Home Office pathologist Dr Mark Egan told Leeds Crown Court that Ms Wrightson had a further 80 wounds to her head and neck, including deep bruising and multiple tears inside her mouth, consistent with being "punched, slapped or kicked" in the face.
Both girls, who cannot be named because of their ages, were allowed to leave the court after becoming "troubled" by images shown of Ms Wrightson's injuries.
Ms Wrightson also had defence wounds, including three broken fingers and multiple cuts to her hands and arms, the court heard.
Dr Egan said Ms Wrightson, who was alcohol-dependant, had early cirrhosis of the liver.
He added that at the time of her death she was "intoxicated", but no "illicit" drugs were found in her system.
The trial, scheduled to last for five weeks, continues.