Teesside judge praises witness in Raine sheep 'theft' trial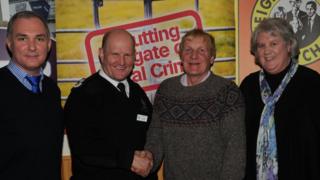 ​A judge has praised a farmer for his evidence which saw two men jailed for three years for possessing more than 100 sheep that did not belong to them.
Richard Betton gave expert views at the trial of Neville and Philip Raine, found with sheep which had come from farms in County Durham, North Yorkshire and Cumbria.
The pair were found guilty of conspiring to use criminal property.
The judge said Mr Betton was one of the most helpful experts he had met.
His Honour Judge Tony Briggs said the evidence of Mr Bretton from Teesdale and part of the Swaledale Sheep Breeders' Association, had "allowed the jury at Teesside Crown Court to understand sheep farming generally and the aspects of the case particularly".
Judge Briggs also praised Barnard Castle PC Harry Marsh, and Debbie Morrison, a recently retired detective constable, for their part in the investigation.
In all, 16 farmers lost sheep between 2010 and 2013 worth just under £25,000.
Police investigating missing ewes organised identity parades to reunite them with their rightful owners.
More than 115 animals were identified as coming from farms in County Durham, North Yorkshire and Cumbria, despite usual markers being removed.
Identity tags were found on the Raine farms in Bowes.