Sunderland's Monkwearmouth Museum 'facing closure' amid cuts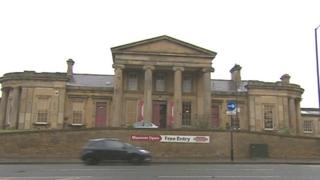 A transport museum in Sunderland is under threat amid city council cuts of £46m this year.
Sunderland Council said visitor numbers to the Monkwearmouth Station Museum had dwindled and it was considering closing it for "a short period".
In 2007, £1m was spent revamping the museum which dates back to the 1840s.
Councillor John Kelly, said it was hoped sponsorship could be found to keep the museum going.
The museum currently houses transport artefacts and has an original rail booking office, built in 1866.
'Cultural plan'
It is housed in the original station building that was commissioned by railway entrepreneur George Hudson and designed by Victorian designer Thomas Moore.
Mr Kelly said: "The visiting numbers have been falling quite steadily over the years, so it needs a fresh approach.
"So at the moment we're looking at doing a mothball of the museum for a small period of time while we work with our partners to develop further the cultural plan.
"We're really examining whether or not there is an efficiency to be made in that area at this moment in time, or whether we can find other sponsorship to keep the museum going."