Middlesbrough asylum seeker red doors 'inadvertent'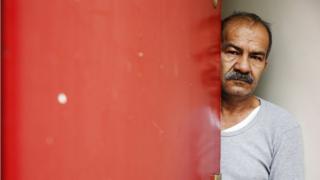 Doors in Middlesbrough were not deliberately painted red to highlight where asylum seekers live, a government investigation has concluded.
A row erupted last month over claims easily identifiable doors made refugees targets for racism and vandalism.
Contractor Jomast used the same standard paint on a number of properties, the review found.
Home Office Minister James Brokenshire said what happened to the refugees was "inadvertent" but should be avoided.
"Housing providers should ensure that, clearly, properties used to accommodate asylum seekers cannot be easily identified either as a deliberate policy or inadvertently," he said.
"The clear issue on being able to distinguish is not right, is not appropriate."
Last month asylum seekers in Middlesbrough told The Times eggs and stones had been thrown at their houses because the doors made them easy to identify.
Mohammed Bagher Bayzavi, 58, said he asked for a different-coloured front door after being plagued by disturbances.
"Everyone here knows the red colour is Jomast. Change the colour - anything but red," he said.
The government launched an investigation into the homes, owned by Jomast, a subcontractor of services giant G4S.
Jomast boss Stuart Monk said at the time that the properties had not been deliberately painted red to mark out asylum seekers, describing the idea "ludicrous".
Work began to repaint the doors last month.
Giving an update to MPs, Mr Brokenshire said the use of a "predominant colour" was down to simple maintenance management, not design.
Inquiries to police revealed no reports of links to anti-social behaviour or stigmatisation, he said.