Barnard Castle: Calls to repair crumbling outer walls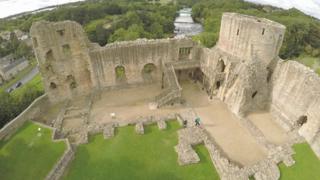 Urgent action is needed to stop the outer walls of a County Durham castle crumbling, campaigners claim.
The walls of the 12th Century Barnard Castle have suffered significant damage in recent years, including during landslips in 2009.
Campaigners want the recommendations of a 2014 structural report, which urged £100,000 of repairs, to be acted on.
But Durham County Council, English Heritage and castle owner Raby Estates have yet to agree a timetable.
Town councillor Gary Marshall said: "We are a tourist town and we rely very heavily on tourism.
"The first thing people see when they come in off the A66 is our castle, which looks quite grand from a distance, but when you get up close you are faced with crumbling walls.
"Any tourist would assume we don't even take care of our own namesake castle and probably continue driving straight through."
Archaeologist Caroline Hardie-Hammond, of the Barnard Castle Walls Trust, added: "We need to get the agreement of the landowner before any works can be carried out.
"The county council is responsible for the grassed area alongside the castle, but the walls themselves apparently belong to Raby Estates.
"They need to agree to any works taking place and also agree to look after the walls in the future."
Durham County Council, Raby Estates and English Heritage agreed to fund a £50,000 structural survey in 2014, which recommended remedial work costing £100,000.
A spokesman for English Heritage said: "The castle is not in danger of collapse and we do not have any concerns about this at the present time."
Durham County Council said it had cordoned-off areas that posed a danger from falling masonry.
No-one from Raby Estates was available for comment.