Durham Police criticise bystanders for filming trapped women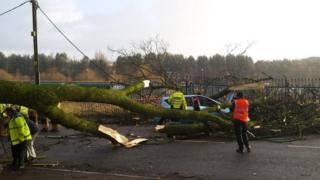 Police have criticised bystanders who used their mobile phones to film two women trapped in their car by a tree rather than calling for help.
The mother and daughter became stuck when a tree, uprooted by heavy winds, crashed into their vehicle in Ferryhill Station, County Durham, at 09:00 GMT.
They ended up contacting the emergency services themselves after the crash.
Durham Police said reports of people taking photographs or videos rather than helping were "disappointing".
Once freed, the women were taken to hospital to be treated for minor injuries.
A Durham Police spokesman said: "The driver and her passenger were trapped in the car and calling for help.
"Apparently a number of people decided to film or take photos on their mobile phones rather than offering assistance, and that is disappointing to hear."