Energy firm E.On scraps plan for Newton Aycliffe wind farm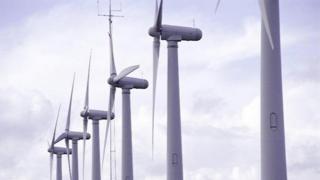 Energy firm E.On has scrapped plans for a 45 turbine wind farm in County Durham, claiming the project is no longer viable.
The company announced four years ago that it wanted to use a site alongside the A1 near Newton Aycliffe.
But the plans were met with opposition from campaigners who said County Durham already had enough wind farms.
The firm said the decision followed long-standing objections, environmental issues and investor uncertainty.
The turbines would have generated enough power for about 53,000 homes.
In a statement, the company said: "During a detailed review of the project a number of long standing environmental and technical issues have been re-assessed.
"These include an objection from the Ministry of Defence, the high level of bird activity on the site, investor uncertainty and changes to planning law.
"While onshore wind remains one of the cheapest low carbon technologies available, the project has been affected by a number of objections and is no longer technically or economically viable."
The company has 16 fully operational wind farm sites in the UK.