County Durham landslip leads to road closure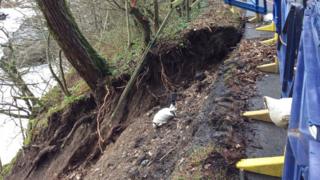 A rural community in County Durham is facing disruption after a landslip caused a section of road to collapse.
Saturated ground from Storm Desmond in December has caused a part of the B6277, which runs from Alston to Middleton-in-Teesdale, to collapse.
One lane of the road in Bowlees remains open with temporary traffic lights in place.
However, Durham County Council said it will be closed for two weeks from 29 March for repairs.
Sue Matthews who runs the Langdon Beck Hotel, is "concerned" she will be completely cut off in bad weather.
'Significant' damage
She said: "There's a potential for diversions from here - one of them would be 72-miles (116km) and the other would be 30 miles (38km) - and in bad weather they are probably both impassable."
John Reed, head of technical services at the council, said: "It's [the damage] quite significant... it has taken away quite a lot of the road.
"The diversion route wouldn't be that long... the main diversionary route would be along the main roads along the A689 and A68- but of course there is a network of local roads that will provide a shorter diversion.
"In a traffic sensitive road like this, we tend to plan to do works during the school holidays when the traffic is a bit lighter."