Auckland Castle Eleven Arches seeks historical artefacts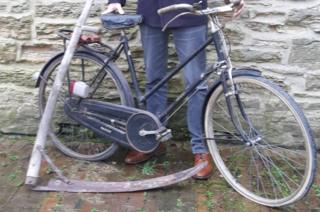 Old artefacts, including mining equipment, agricultural tools, and household implements, are being sought for a County Durham visitor attraction.
The Eleven Arches project, in the grounds of Auckland Castle, will feature massive open-air historical re-enactments and light shows.
Performances at the £29m attraction are due to start in the summer.
Organisers are appealing for props to ensure accuracy during the "epic journey through British history".
The shows, similar to those at Puy du Fou, a historical theme park, which has been running in France since 1978, will take the audience on a journey from Roman times to Viking invasions, the industrial revolution and the Second World War.
Items to be sourced range from footballs from around 1920, to miners' Davy Lamps, and from 19th Century flails to Viking axes.