Campaigners bid to breathe new life into Crook's Electric Palace Theatre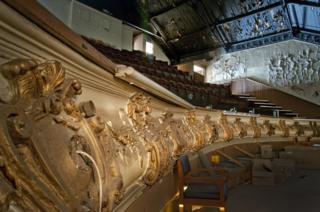 Campaigners are calling for help to breathe new life into a "historic" former cinema in County Durham.
The Electric Palace - later renamed The Empire - opened in Crook in November 1910 but was turned into a bingo hall in the late 1960s.
The building is currently home to a car parts firm but retains many of its original features.
A campaign called Save the Empire Electric Palace Theatre aims transform it into an arts centre.
Aaron Cowen said: "If we don't do it, we'll lose it. It could face demolition.
"It's something we think is of historic importance as there are not many of these types of cinema left."
The venue is believed to be one of the first purpose-built cinemas in the UK and was designed by North Shields architect Pascal J Stienlet.
The team behind the campaign said no Stienlet cinemas remain in use and only a small number are still standing.