Middlesbrough train station work to last another year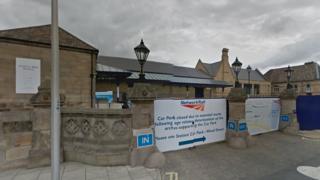 Building work at a railway station is likely to continue for at least another year, the authority responsible for the country's railway network has said.
Surveys to see what repairs are needed at Middlesbrough's station were being carried out but there was no funding for its old car park, Network Rail said.
It has been closed for two years.
Middlesbrough Labour MP Andy McDonald said he was "deeply frustrated" the work had not happened more quickly.
"Come 2020, if we have a direct service to London, if Virgin deliver on that, we want a city centre railway station that's fit for those sorts of services," he said.
The original car park was shut indefinitely in January 2014 because the arches supporting it could no longer bear the weight of vehicles.
Network Rail route enhancement manager Stephen Hind said there were "aspirational plans" for it but the authority had not yet been able to source funding.
Work to expand a new car park on Wood Street should be finished in March, he said.
Building work on the station itself is expected to finish at the beginning of 2017.