Sheep savaged at RSPB Saltholme reserve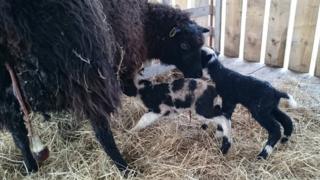 Nature reserve staff say they are horrified by the number of sheep being savaged by dogs at night.
Eleven Shetland sheep have been killed at RSPB Saltholme near Billingham since 20 December, with three more needing intensive care.
Reserve manager Dave Braithwaite said the attacks had been highly distressing for surviving sheep and the site's volunteers.
He fears the fright could cause pregnant ewes to abort their lambs.
Mr Braithwaite said: "The vets have confirmed the injuries have been caused by a dog or dogs running amok.
"Either this is because someone is letting their dogs out at night and the animals are free to roam or, much more concerning, it is deliberate malicious attacks.
"It is highly upsetting for everyone here and even the sheep that have survived are extremely distressed by it."
The sheep are an important part in the conservation at Saltholme with their grazing providing habitat for numerous birds.
Mr Braithwaite said there had been isolated incidents of sheep being attacked in the past five years prior to this week.
Cleveland Police are appealing for information.