Mark Gatiss unveils Durham police memorial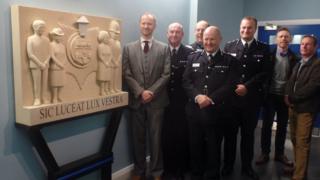 Actor Mark Gatiss has unveiled a memorial at Darlington Police Station dedicated to fallen officers.
The Sherlock star and co-creator was joined by family and colleagues of those from the force who have died.
One such officer was Det Sgt Dave Storey, Mr Gatiss' brother-in-law, who suffered a stroke one week after he retired from Darlington CID aged 53 last year.
Durham Police said the stone was a "fitting tribute".
Mr Gatiss, who previously hosted an evening at Darlington Civic Theatre to raise funds for the memorial, said: "Sometimes when you go past an old building, there's often an inscription on it and I think to myself how those people are long gone now.
"But I'd like to think that this memorial is a reminder of all the men and women who have given their life and it will remain here long after we're gone too."
Chief Supt Graham Hall added: "We are extremely proud of what has been achieved.
"This memorial is a fitting tribute to those we have lost and will ensure that we never forget them."