Hartlepool Bombardment display opens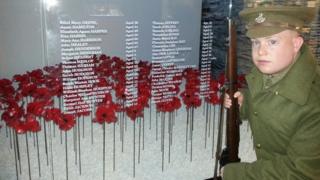 A new gallery of artefacts and exhibits about the Hartlepool Bombardment has opened 101 years after the event.
Some 130 people were killed when German warships attacked the town on 16 December 1914.
The exhibition about the event has opened at the Museum of Hartlepool at Hartlepool's Maritime Experience.
Hartlepool Council said it was a significant event during the war and needed to be properly remembered.
The Heugh Gun Battery on the Headland returned fire in what was the only battle to be fought on British soil during the conflict, and one of the battery's soldiers, Theo Jones of the Durham Light Infantry, became the first British soldier to be killed by enemy action on home ground in the war.
Highlights of the gallery include a video, 130 ceramic poppies from the Tower of London and objects including a clock hit by a shell fragment and German shells.
Kevin Cranney, chairman of Hartlepool Council's regeneration services policy committee, said: "The Bombardment of the Hartlepools was an event of massive significance, not only locally but nationally.
"I am delighted that the tragedy and heroism of that day is now commemorated in this fine and poignant new permanent exhibition."