Cleveland Police chief in racism apology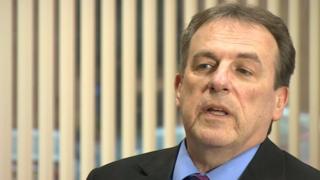 Cleveland Police and Crime Commissioner Barry Coppinger has apologised to an officer who was racially discriminated against by colleagues.
The only Asian member of the firearms unit, PC Nadeem Saddique claimed he was forced out of the department and resented by colleagues.
An employment tribunal concluded his complaints were "well founded".
Mr Coppinger said he has apologised to PC Saddique over the racism "issue" in the force.
The tribunal was told superiors were heard plotting to force PC Saddique out of the department while on a night out at the Black Bull pub in Yarm.
The officer began an employment tribunal against the force in 2011, claiming race discrimination, harassment and bullying.
He settled with the force without receiving any money on the understanding he would be given access to training and would regain his VIP protection status when he returned to work.
However, he later felt a personal development plan was not properly implemented.
A further five officers have made racial discrimination complaints against the force, but Mr Coppinger said it would be "extremely unwise and inappropriate" to comment until full tribunals had been held.
Speaking to BBC Look North, Mr Coppinger said the issues around the professional standards and complaints processes need to be resolved.
"There's clearly been actions by a few people which are not appropriate and that needs to be addressed.
"As a result of the tribunal process we've now got a judgement, we've got statements written down which we will work from and I want to make sure that we learn from that process and I'll be making sure that the Chief Constable is held to account for implementing that.
"Racism has been an issue, it has been highlighted as an issue. It's an issue that is going to be addressed within Cleveland Police."