Highnam Hall put in special measures after inspection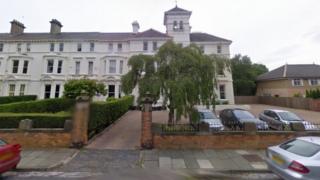 A care home in Hartlepool has been put into special measures after being rated inadequate by inspectors.
The Care Quality Commission (CQC) made an unannounced visit to Highnam Hall, which provides residential care to people living with dementia.
Inspectors found "significant deficits" in the fire safety of the building, leaving residents, staff and visitors at risk of "significant harm".
It also found people were treated in an "undignified and disrespectful" manner.
'Lacklustre and complacent'
The owner of the Park Avenue home, Matt Matharu, was jailed for eight months in February for failing to protect an elderly resident who fell to her death at Parkview care home in Seaton Carew.
The inspection, concluded last month, found staff responded to a fire alarm activation in a "lacklustre and complacent" manner and there was "no urgency" to ensure people were safe.
Inspectors also found staff had not received training in privacy and dignity or in challenging behaviour when residents were distressed and disoriented.
'Risk closure'
The report said staff were found discussing sensitive and confidential information about people's health and welfare in front of other people during handovers, which showed a "lack of respect for people's privacy".
However, the provider did have an "effective system" for the safe storage, administration and recording of medicines.
A statement released on behalf of the home owner said: "We have carried out improvements to the home since February this year and many of the required actions have now been rectified."
A Department of Health spokeswoman said: "We will not tolerate inadequate care. Inadequate services must improve or risk being closed down.
"CQC can take action against companies and directors if they allow poor care, including bringing a prosecution for the most serious failures in care."