Middlesbrough Council resurfaces road round car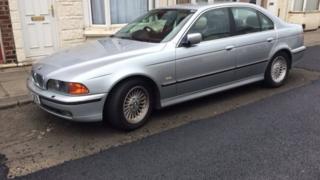 A council is seeing the funny side of a sticky situation after resurfacing the road round a resident's car when he failed to move it.
Nick Dean did not have the keys to move his BMW when Middlesbrough Council resurfaced Sadberge Street.
He said he tried to contact the council the day before the planned job, but as they did not respond he decided not to get the keys.
The council said the road would be completed at a later date.
Mr Dean said: "It's quite comical. I did my best; they didn't have the courtesy to ring me back. Why should I go out of my way to help them?
"On the plus side, at least I have my very own personal space."
Councillor Lewis Young, who represents the North Ormesby ward, said: "Every effort is made to avoid any inconvenience for residents but inevitably, when working with Tarmac, you will find yourself in the odd sticky situation."