Middlesbrough Transporter Bridge closes for flood defence work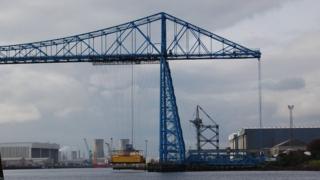 Middlesbrough's Transporter Bridge is to close for two months in a bid to protect hundreds of buildings from flooding.
The bridge will be closed to vehicles but will remain open for cyclists and pedestrians as the work is carried out.
It is part of a £3m scheme by the Environment Agency to protect 350 homes and 32 businesses in Port Clarence affected by severe flooding.
The agency said it was a "vital element" to the flood defence scheme.
A 115ft (35m) section of the road on the approach to the bridge, which is currently a flooding issue, will be raised by around half a metre.
Project manager Chris Milburn said: "We appreciate this may cause some inconvenience for motorists and we'll be doing everything possible to complete the necessary works as quickly as possible to minimise disruption.
"While there will be some short-term disruption, it will result in long-term protection for the community."
The agency began building defences at Port Clarence in March, after the area was hit in December 2013 by devastating floods and the highest tide recorded in the area for 150 years.
The road closure is in place from 8 June for up to two months but it is hoped to be completed sooner, the agency said.
The bridge only recently reopened following a £4m revamp which saw it out of action since August 2013.
The Grade II-listed structure, which opened in 1911, is one of only six of its type still operating in the world and the only one in England.