Wilton-based Sabic signs US shale gas deal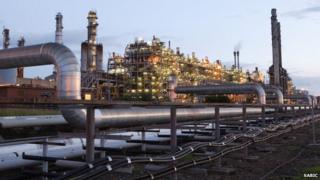 A Teesside chemical firm has signed a deal to import US shale gas, in a move it says will safeguard up to 900 jobs.
Sabic said the deal to bring ethane to Teesside would "secure the future" of its Wilton-based facility.
The site is used to "crack" ethane into smaller molecules to produce raw material used in plastics.
A spokesman for the company said the first gas from the United States was due to arrive on specially equipped ships in July.
Major investment
Last year, Sabic announced a major upgrade of the Wilton plant, enabling it to take US-produced ethane.
The spokesman added: "Ethane, a bi-product of shale gas, is far cheaper than naphtha - the raw material we currently use to produce the chemical building blocks for everyday items from toothbrushes to TVs and car parts.
Last year, SABIC announced major investment to convert the Cracker, enabling it to take ethane, in a move that sector chiefs claim is the "first step towards securing a long-term supply of raw materials for Teesside's process sector".
"The US market for shale gas has boomed in recent years and cheap supplies have breathed new life into the country's petrochemical sector.
"This deal will secure the future of Teesside as one of the most competitive plants in Europe."
Sabic operates in more than 40 countries and employs about 40,000 people worldwide.