Auckland Castle museum's £17m revamp given the go-ahead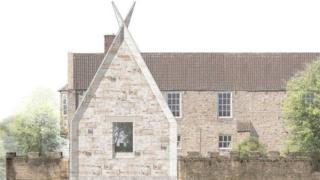 Plans for a £17m museum and restoration project at a County Durham museum have been given the go-ahead.
The proposed redevelopment of Auckland Castle - home to the Bishops of Durham for 800 years - is hoped to attract 130,000 visitors a year.
The council has also approved a two-storey extension to be added on to the castle's 16th Century Scotland Wing.
The new building will house an exhibition charting the faith, history and beliefs of the British Isles.
Curator Dr Chris Ferguson, said: "The restoration of the historic palace of the Prince Bishop of Durham is absolutely central to all our plans here in Bishop Auckland.
"Over 1,000 years old, it has always been core to the history of the region and the British Isles but, until this project, was arguably unknown to most people living in the North East.
"Restoring the grandeur of the palace will allow us to tell the stories of those who have lived, worked and died here - both above and, particularly, below stairs."
The Auckland Castle Trust has pledged £7m towards the total cost of the museum extension and restoration project.
A decision on an application for a £9m grant from the Heritage Lottery Fund will be announced at the end of May.
The first stage of the multimillion-pound project to build a £2.5m Welcome Centre, featuring a 95ft (29m) tower, was approved in March.
The castle's current biggest attractions are the Zurbaran paintings, which have hung in the castle for 250 years.
Work on the new building and renovation of the Scotland Wing is expected to begin spring 2016, with phase two within the castle starting September 2016.
The full restoration is expected to be completed by 2018.